The Grand Piano in Performance – More Media
April 2011: the Grand Piano at Poets House, New York
In April 2011, eight Grand Piano authors gave a performance from the work at Poets House in New York. Steve Benson, Carla Harryman, Lyn Hejinian, Tom Mandel, Ted Pearson, Bob Perelman, Kit Robinson and Barrett Watten took part. Photos here and here
January 2011: the MLA in Los Angeles
In January 2011, six Grand Piano authors gave a performance from the work in Los Angeles as part of the annual MLA Convention. Rae Armantrout, Carla Harryman, Lyn Hejinian, Ted Pearson, Kit Robinson and Barrett Watten took part. Hélène Aji (Université Paris-Nanterre) presided, and Antoine Cazé (Université Paris-Diderot) presented as well.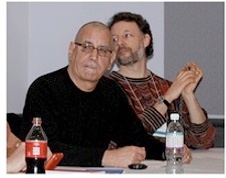 Here is Hélène Aji's introduction.
And here is the reading itself.

October 2008: the College for Creative Studies in Detroit
In October 2008, seven Grand Piano authors gave a performance from the work at Detroit's College for Creative Studies. Detroit residents Carla Harryman and Barrett Watten organized the event, and Grand Piano authors Steve Benson, Lyn Hejinian, Tom Mandel, Ted Pearson and Kit Robinson took part as well.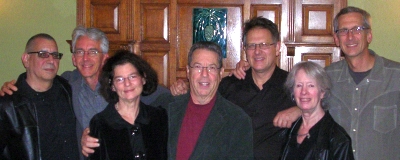 Introduction by Barrett Watten with comments from Tom Mandel and Carla Harryman:
The reading includes sections by individual authors, some duets, and a final crescendo in which all seven authors perform at once — to their and the audience's delight.
June 2008: University of Maine in Orono
Grand Piano authors Barrett Watten, Steve Benson and Kit Robinson perform in June 2008 at Poetry in the 1970s held at the University of Maine, Orono. The reading begins after a brief introduction by Lytle Shaw.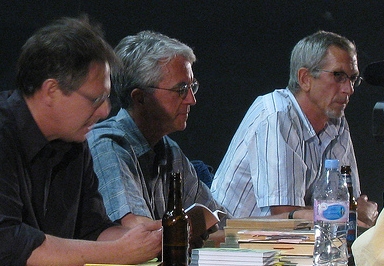 photo: Tom Orange


Photos
Bay Area Poetry Readings: the Bay Area boasted an extremely active schedule of poetry readings in the second half of the nineteen seventies — several readings a week as often as not. We chronicle both the Grand Piano readings as well as other events for which we have been able to find documentation.
Flyers from other readings — to come

more to come...
With this archive, we hope to help create as complete a record as possible of the Bay Area experimental writing scene 1975-80. Please if you can add to or improve any materials on these pages.