PART 6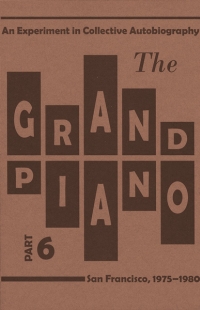 Ron Silliman begins:
WHERE IS THE BODY? Where's the body in the text? That text, this text, any one? That's a recurrent question in poetry, one that can be dated to the "Preface" to Lyrical Ballads in 1795 & which turns up explicitly in the poems of Charles Olson & the Projectivists. Olson & Creeley in their different manners offered us the lung as the mythic organ of poetry. Robert Duncan in turn proposed the hand....
---
The Grand Piano is an experiment in collective autobiography. Subscribe to all ten volumes or a partial subscription beginning with any volume.